TOP
> Features of JAC series






Tire shaped coupling, conduction mechanism, various control instruments, machine parts, Doctor Blade, machine oil,

Wholesale of control devices and mechanism parts

MAKUHARI INDUSTRIAL CO.,LTD.
Features of JAC series
Certain errors between two shafts can be accommodated.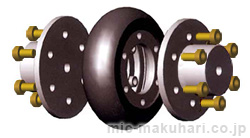 1. JAC's tire shaped coupling features the power transmission by its tire made of rubber and strong cords.

This lightweight product is also free from noise due to considerably reduced vibration, enhanced shock absorption, thus extending service life. Mounting is quite easy, eliminating the need for any special tool. The tire shaped coupling is especially suited for jointing shafts that link between the drive side and the driven side.
2. It is applicable even when there is some error between the two shafts.


The tire absorbs errors such as shaft angle declination so that some deviation between the two shafts can be accommodated.
・Allowable axes displacement: 1% of external form of coupling
・Allowable shaft angle declination: within 2 degrees
・Allowable expansion and contraction: - 10% to + 3% relative to width of coupling
3. You can mount the coupling and replace the rubber body only by loosening the bolts without need for any special tool.
4. It is protected against mechanical damage resulting from load, by virtue of its excellent shock absorbing capability.
5. Its integrated architectural structure eliminates the need for lubrication or maintenance work.
6. It can reduce noise thanks to its vibration and shock absorbing capability.
MAKUHARI INDUSTRIAL CO.,LTD.
7-25-5 Makuhari Hongo, Hanamigawa-ku, Chiba-shi, Chiba Prefecture, Japan
copyright©makuhari industrial co., ltd all rights reserved